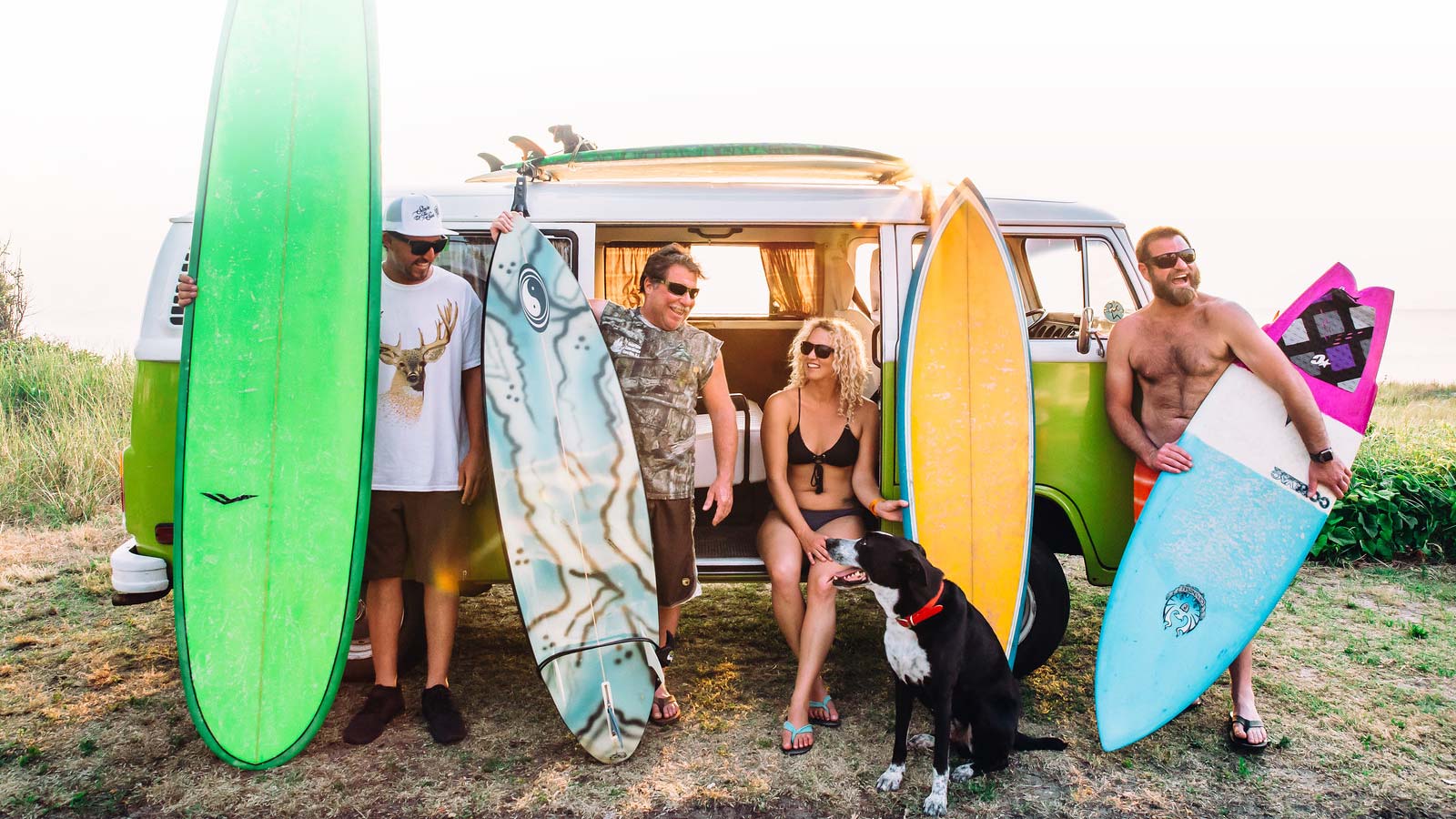 Cape May Surf Report
Looking to catch a swell?
The secret's out: When conditions are right, New Jersey's waves are among the best in the world. We've put together a guide, from west to east, of the best swells in Cape May, home to a vibrant surf scene since the 1960s. Whether you're a shredder or a grom (that's surf-speak for "expert" and "beginner," respectively), this island has a set for you. Dolphin sightings included…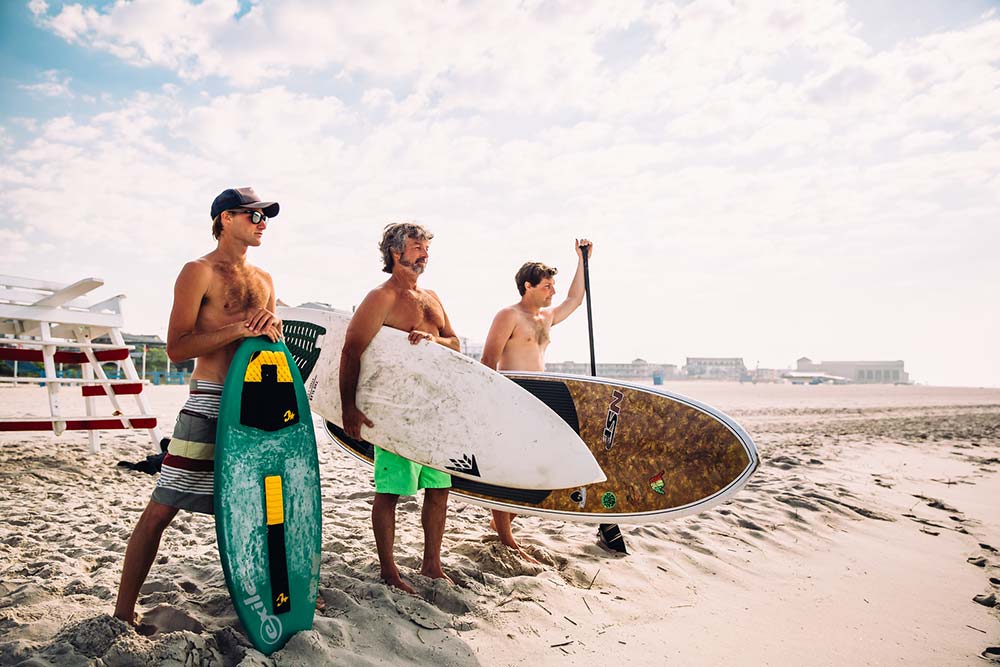 The Cove
At the westernmost end of the promenade — with a view of the lighthouse — this novice-friendly beach offers gently sloping, easy-breaking waves all summer. Named one of the 21 best beaches in America by "Coastal Living," the Cove is a goofy-footer's dream — long rides, all lefts. Open to surfers all day, the spot typically breaks best during an incoming tide. As the water level drops, be mindful that currents pull around the jetty.
Broadway
There are plenty of good lefts (and a few rights) to be had here… if you're feeling on your game. This place is more challenging than the Cove — sets come in hard and break shallow. It will be cleanest during a north to northeasterly wind, when beaches north of Cape May are choppy and disorganized. While not open to surfers when lifeguards are on duty, the spot is popular with (careful) bodyboarders all day long.
Grant Street
This place is home base for the Cape May Beach Patrol — hence the beach's nickname: Headquarters. Thanks to an especially long jetty, the spot offers one of the best waves on the island. It also offers one of the most versatile. Depending on weather patterns, you'll see anything from long and peeling to steep and punchy. It breaks at all tides, but it's open to surfers only before 9:30am and after 5:30pm.
Stegers
This beach, named for one of the island's original surfers and the eponymous surf shop he owned here, offers a nice, left-breaking wave that appeals to beginners, intermediates and experts, depending on the day. Like Grant Street, it's open to summer surfers only before and after guarded hours.
Stockton
A crescent-shaped beach with a peeling left, this place can get a bit crowded. (Because it faces south, it's firing when most of Jersey's beaches are onshore and messy.) But, hoo boy, when waves are chest high, expect barrels. While beach replenishment has reshaped the profile over the years, there's consistently a bump here. It's open to surfers all day long.
Queen Street
A favorite among intermediate and expert-level surfers, it takes some size to see this beach line up — it does best with a northwesterly wind. (Waiting on the right conditions? You get a great view of this peak from the roof deck of Harry's Ocean Bar and Grille on the beachfront.) On steep lefts that form off a jetty and wall up quickly, takeoffs can be vertical and hairy, but fun sections follow. It's open to surfers all day long.
Poverty
So named because, legend has it, this used to be the beach of choice for the "help" in Cape May, Poverty is rich with hollow, A-frame waves. The problem? On smaller days, the beach-break can be wicked — it dumps right on the sand. And on larger days brought to you by north/northwest winds, this is a hollow, high-performance, expert-only wave. It's open to surfers all day near Wilmington Avenue, and parking is free if you'd like to take in the show.
Descriptions by Diane Stopyra, our favorite Cape May-based freelance journalist/surfer!
Paddle Boarding & Kayaking Spots
Cape Island Creek
Located parallel to Lafayette St. and The Boarding House. Get up close and personal with some of the area marshland. Nice and flat, very good for beginners. Don't get stuck out there during low tide. Easiest entrance would be near the Spicer's Creek Boat Access (1105 Wissahickon Ave, Cape May, NJ 08204)
Fisherman's Memorial / Schellenger's Creek
Provides access to the Cape May Harbor as well as a number of local Marina's. Paddle through some of Cape May's largest sport fishing yachts as well as the docks to Cape May's most famous restaurant, The Lobster House. It can get a little rough out there on windy days, also be careful of boat traffic. (1021 Baltimore Ave, Cape May, NJ 08204)
Cape May Harbor
The center of all on-water activity in the Cape May area. You'll see cruising boats, fishing boats, jet-skis, etc. It can get pretty busy out there on beautiful days. Try to head out early or stay towards the coasts to not be interrupted by the other boating traffic. There are many ways to enter the harbor. Make sure you don't paddle into the Coast Guard base, it's off limits.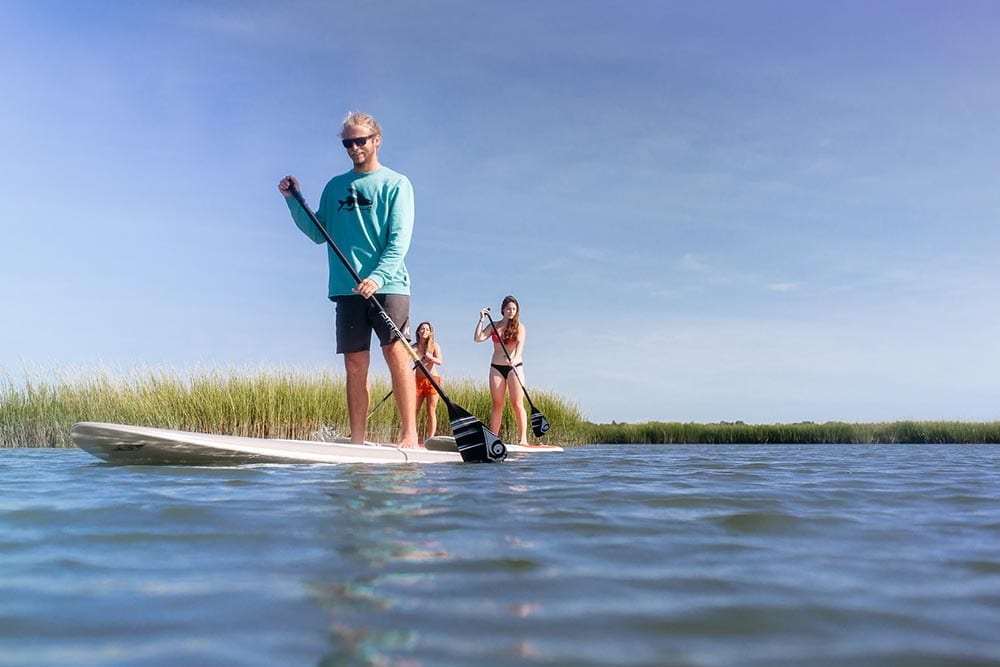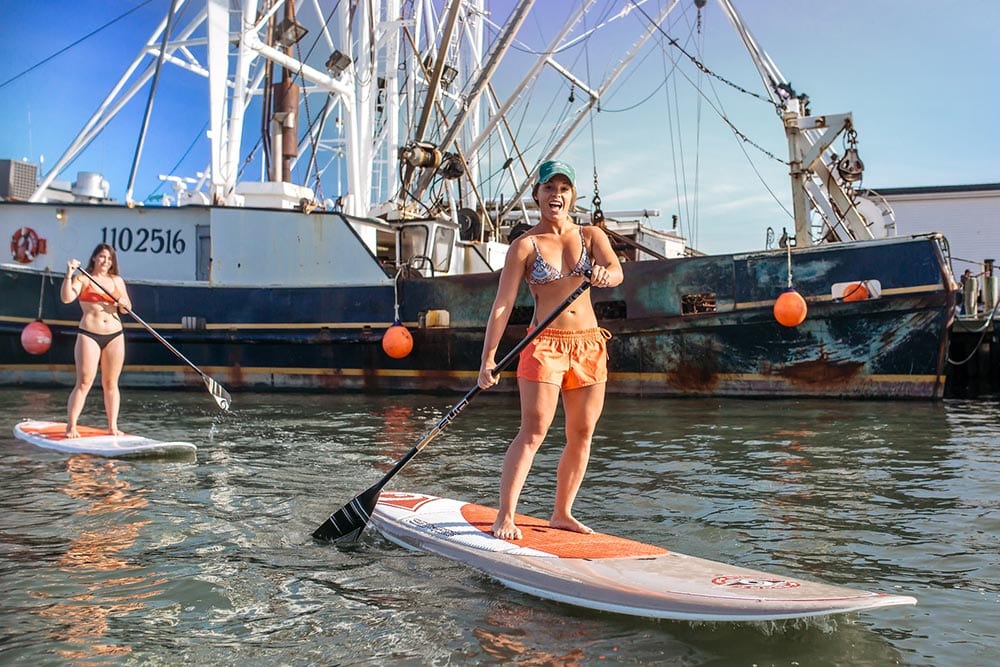 Stay at the Boarding House
Rustic and relaxed, yet decidedly modern, the Boarding House seamlessly weaves laidback vibes with luxury & comfort. Book your stay today.